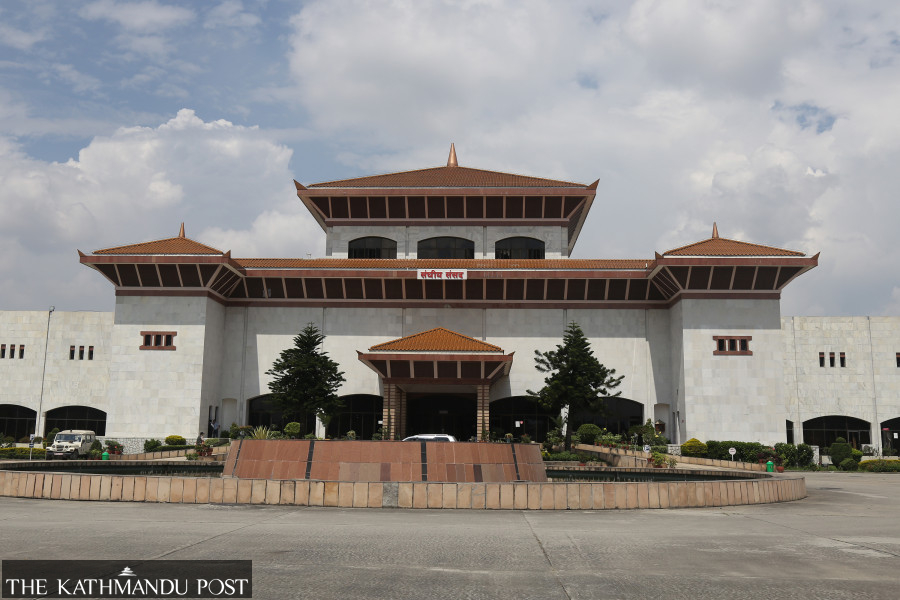 Lower House approves budget amid UML protests
The House of Representatives approved the appropriations bill on Monday amid obstructions from CPN-UML, the main opposition.
From the start of the House meeting, UML lawmakers resorted to slogans, demanding the resignation of President Agni Sapkota.

Sapkota, however, authorized Finance Minister Janardan Sharma to present the proposed vote on the bill. The bill was then passed by majority vote, as UML lawmakers continued to chatter with slogans.
"Today's meeting of the House of Representatives approved the appropriation bill by majority votes," said Gopal Nath Yogi, secretary of the House of Representatives. "Now we are going to send it to the National Assembly."
The next meeting of the National Assembly is scheduled for Tuesday. Once the bill is approved by the upper house and sent back to the lower house, the bill will be sent to the president's office for authentication, after which the current government shutdown will be lifted.
Sharma on September 10 had introduced the replacement bill for the budget ordinance which was made by the former KP government Sharma Oli on May 29. Since the ordinance was registered in the lower house on July 16, it must have been passed by September 15 according to the 60-day constitutional deadline. But the House meeting on September 15 was adjourned until September 20 without passing the bill, resulting in a government shutdown, a situation in which the government cannot spend money from state coffers. .
Although the bill has passed through the lower house, the government shutdown will continue until it is passed by the upper house.
It will take at least three days for the National Assembly to pass the bill once it is presented, as 72 hours must be given to deputies to register proposed amendments.
The lower house, however, managed to pass the bill in a single day, as there was only one lawmaker who had sought to assert their views on the bill.
"Last year it took three days to approve the bill due to Covid-19, but this year there was only one lawmaker to express his opinion on the bill, he therefore been approved today itself, "Yogi said.
Prem Suwal of Nepal Majdoor Kisan Party was the only lawmaker to present his views on the bill when it came up for discussion, as the UML continued its slogans.