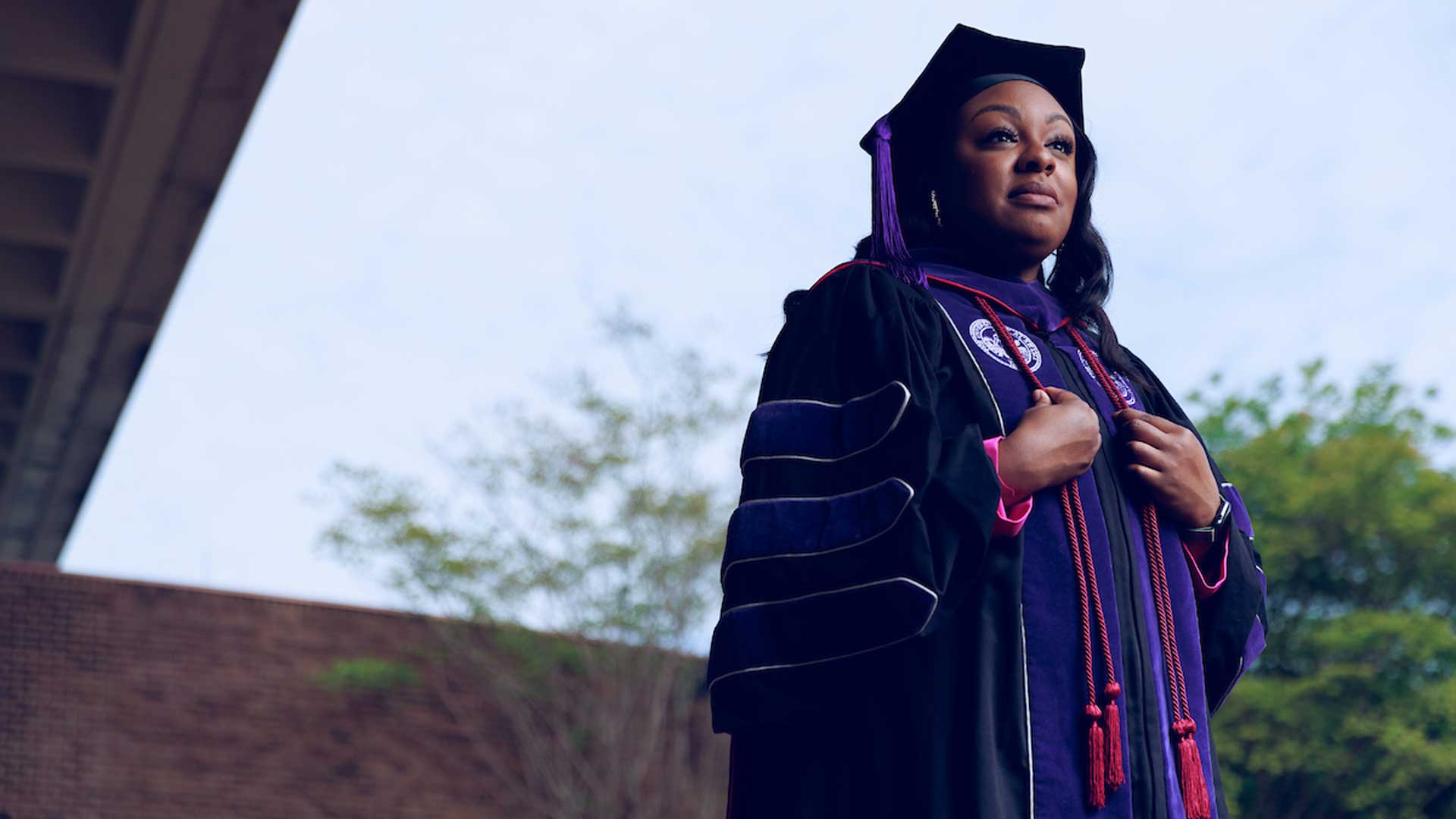 Mother's Day means more this year for a resilient law grad – University of Alabama News
Aaliyah Locke will obtain her Juris Doctor in May 2022.
As she gazed into her newborn son's eyes, Aaliyah Locke made a promise to him: she would do whatever it took to succeed.
Five years later, on Mother's Day, with her son encouraging her, she will cross the opening stage to receive her Juris Doctor.
"Graduating on Mother's Day, surrounded by my family, is almost a full circle," Locke said. "I wouldn't be here without their support and belief in me."
Growing up in Murphysboro, Illinois, Locke always knew she wanted to go to law school. She was inspired by her family's dedication and service to the justice system — her grandfather worked as a police officer and corrections officer.
In 2017, Locke gave birth to her son, Quentin, while attending Southern Illinois University. She received her bachelor's degree in public relations in 2019. The single mother loved being close to her family, especially after the birth of her son. But she dreamed of opportunities beyond her hometown by applying to law schools. And then Claude Reeves Arrington, associate dean of admissions at the University of Alabama Law School, called.
"Most schools send out emails and letters when you're accepted, but I vividly remember Dean Arrington calling me," Locke said. "It was 6:30 or 7 p.m. and she was still in her office, but she called to tell me that I had been accepted and that I had a scholarship offer. The law school customized the process for me and that says a lot.
As she listened to Arrington speak, Locke's mind quickly began to plan her and Quentin's future. Going to school over 400 miles from her family support system wouldn't be easy, but Locke was determined to let nothing stand in the way of fulfilling her promise to Quentin.
In addition to being a full-time law student spending 30 or more hours a week studying or in class, Locke also worked as a part-time legal intern and research assistant to support herself and her son. . As Quentin's sole caregiver, if he was sick or his daycare was closed, Locke would have to miss school or work. But Locke said she quickly found "her village" in a support system of teachers, administrators and fellow students.
"There's a stigma about law school that it's a very cold environment, and you have to figure it all out on your own," Locke said. "That has not been my experience. My teachers over the years went out of their way to make sure I had class notes and had access to them in the days when being a mother was prevalent. Even outside of school there has always been an intention to make sure that as a person I am well and managing every aspect of my life.
Locke felt called to help pave the way for others like her – parents who wanted to pursue a law degree. Locke became involved with Parents Attending Law School, a support and resource group that aims to help students with local resources. She became its leader and biggest champion, working with school administrators to expand its efforts to attract students from diverse backgrounds, increase scholarship opportunities and more.
"I'm a student, but also a mom, because life still happens outside of law school, and you have to adapt," she says. "I wanted to help other parents to be able to come and thrive in law school because life isn't going to stop for school, so why not make it more accessible?"
Locke knows her time at UA only strengthened the promise she made to her son. After graduating, she would go on to forge her own path in Birmingham, as a first-year associate at the law firm Baker Donelson.
"It's the beginning for me. I'm still figuring out my place in this world and what I can bring to it, but it's definitely not the culmination of my story," she said. All I can say is, stay tuned."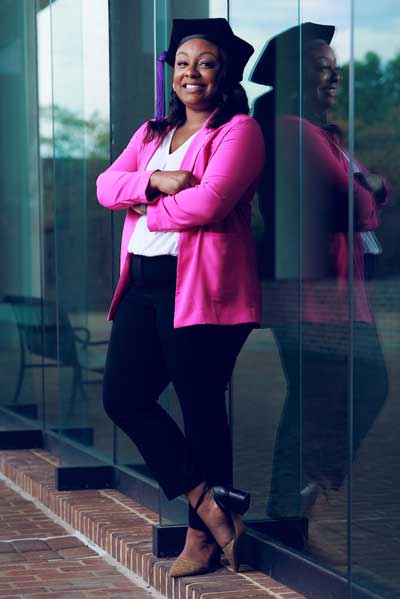 Locke is taking the Alabama bar exam this summer.
The University of Alabama, part of the University of Alabama system, is the flagship university in the state. UA shapes a better world through its teaching, research and service. With a global reputation for excellence, UA offers an inclusive, forward-thinking environment and nearly 200 degree programs on a beautiful, student-centered campus. A leader in cutting-edge research, UA advances discovery, creative inquiry and knowledge through more than 30 research centers. As the largest institution of higher learning in the state, UA drives economic growth in Alabama and beyond.