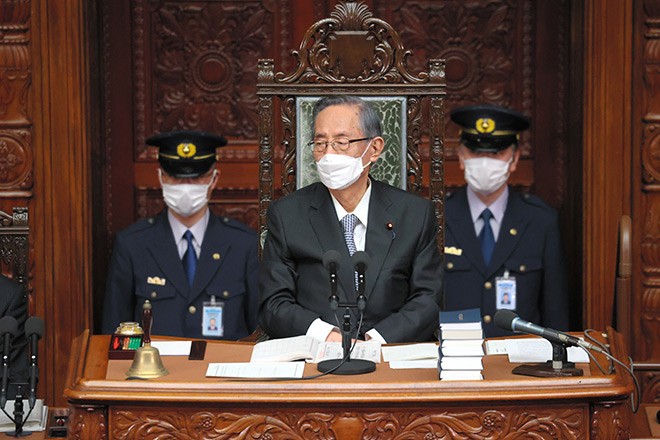 Regime president apologizes for bashing lawmakers' salaries
Lower House Speaker Hiroyuki Hosoda apologizes for saying Diet members' monthly salary is "only" 1 million yen ($7,700).
It comes after his remarks sparked a social media storm for making lawmakers appear underpaid.
He made this statement in an attempt to justify increasing the number of lawmakers in the Diet.
"Even if you become a member of the Diet, you only get paid 1 million yen a month," he said at a party for members of the Upper House on May 10. "Presidents of listed companies are always paid at least 100 million yen."
He then said: "Adding a few more members to the Diet is therefore not a punishable offence."
But once the media reported his comments, Hosoda was heavily criticized for appearing out of touch with the public.
Lawmakers from opposition parties were even joined by members of the ruling coalition in chastising his remarks.
"The Diet could also be criticized for choosing him as president," said a senior official from junior coalition partner Komeito.
Hosoda apologized for his comments during a meeting between senior ruling and opposition party officials held at the president's official residence on May 12.
"I will refrain from commenting from now on," he reportedly said.
His remarks appear to have been prompted by his dissatisfaction with the government's plan to rezone electoral constituencies.
The government has worked to revise lower house constituencies by adding 10 seats while removing another 10 seats in 15 prefectures, including Tokyo, to address disparities in vote weights to ensure the electoral system is equitable, regardless of the voter's place of residence.
However, some members of the ruling Liberal Democratic Party, including Hosoda, have publicly expressed their dissatisfaction with the idea.
Some lawmakers from both ruling and opposition parties have been unhappy with what some call the "painful reforms" the government has implemented.
When the Lower House was dissolved in 2012, the LDP, Komeito and the former Democratic Party of Japan, which was in power at the time, agreed to reduce the number of Diet members in order to make the rise in consumption tax more acceptable to the public. .
"Hosoda's comments are understandable," said a longtime member of the LDP's lower house.
Japan does not have as many legislators as other large countries by population.
According to data from the Inter-Parliamentary Union and United Nations population statistics, Japan has one member of the Diet for every 180,000 people.
This places Japan 36th among the 38 member countries of the OECD. And that places Japan 11th among the 19 member countries of the Group of 20, excluding the EU.
But when it comes to comparing their salaries, it all depends on how the numbers are calculated.
Currently, Diet members earn around 1.04 million yen per month, a figure that has been reduced due to the COVID-19 pandemic, putting them at around 12.5 million yen per year.
The annual salaries of members of the US Congress, according to IPU data, amount to approximately 22.5 million yen when converted at the latest exchange rate.
British members of the House of Commons, meanwhile, receive 12.98 million yen, while there is no salary for lawmakers in the country's House of Lords, although they are entitled to expenses and allowances.
However, Japanese lawmakers also receive allowances on top of salary, which can make it an apples-to-oranges comparison when directly comparing their salaries with those of their international counterparts.
Combined with their "end-of-term pay", their salary is around 19 million yen per year. In addition to this, they are also paid 1 million yen per month in research, study, public relations and accommodation costs – which critics disparagingly refer to as a "second salary".
A senior LDP official said he finds it difficult to explain to the public that their salary is relatively low.
"The public can't understand when we say lawmakers have a small salary," the senior member said.
Masao Matsumoto, professor emeritus of political science at Saitama University, said criticism of Hosoda stemmed largely from public distrust of politicians.
"The expected role of Diet members and speaker is to discuss rules and principles," he said. "Therefore, it is wrong that the speaker is talking about money."
(This article was written by Amane Sugawara and Haruna Shiromi.)